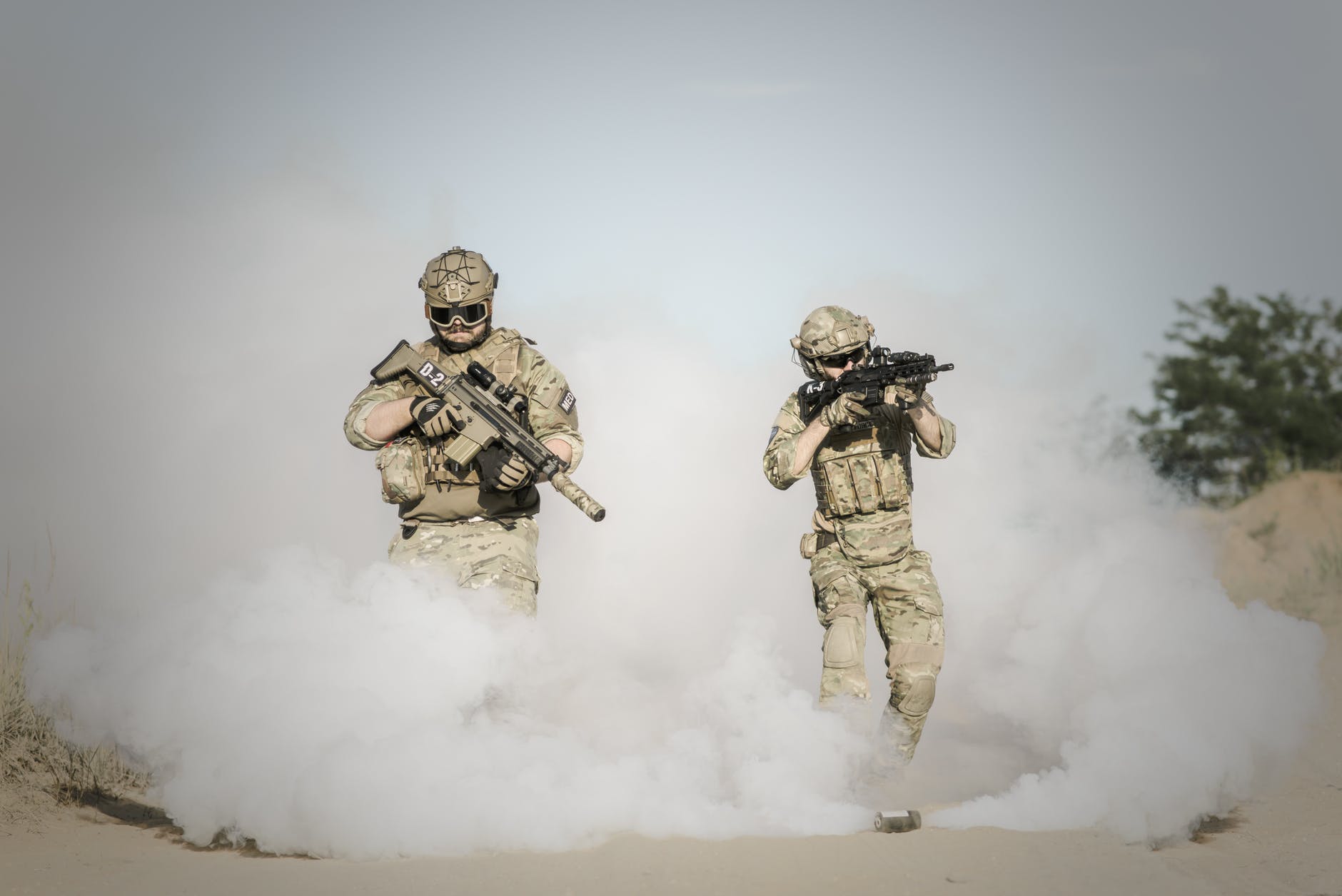 54 War Captions For You To Sail Through The Tough War Times!
The nations feel proud of their tanks, guns and missiles, are the ones who haven't tasted harmony.

There can be nothing worse which can happen to mankind than experiencing wars. A state, where humans fight with others humans, for what?

Money? Can't we work hard and earn it?
Power? Can't we do something big and earn power
Status? Cant we do something revolutionary which helps each other to gain the status?
Respect? We cannot demand respect!

There are many 'If' and 'But's, But to make yourself feel better, and get you out of the somber situation, pictures with well-captions can be of silver lining.

Use Original, Use CaptionWala!
Three-Word War Captions!
Use these fire phrases to your words and make your post look captivating:
Short war Captions for Instagram:
Its time to dissolve the ego not in blood, but in peace.
Communication is the key, don't let it get lost, it might end up on the war door.
Instead of a blood bath, make a choice for peace bath.
War determines who is left, not who is right.
Smiles can splash rays of hope, wars can splash ray of despair.
Let red not be your favorite colour!
Older men's decision leads to life of the youth.
Sweat in peace, not in war.
Remember – Leave red for love, not for blood.
Let gun powder be used in Dosa, not in war.
Wars are for egos, why not burn them now?
Most powerful warriors of all time – patience and time.
Tongue > Hands, Peace > War
War is a disease, which everyone should run from.
Sweat helps in saving our precious blood.
Seduce the enemy with words, not war.
A cowardly escape from the real problems.
Play with minds to dilute all differences.
A successful war = a lost bottle.
War builds thieves, and peace hangs the thieves.
Spread positive wave in Covid wave.
War Motivational Quotes:
War – A fight amongst the people who do not know each other for the people who know each other and don't get along.
It is only the dead men who see the end of the war, but isn't the end of the story too early?
The cost of freedom is high, but we all love expensive luxuries! – So why not work hard to earn the luxury of freedom and peace.
If the man kind does not end war today, the war will end us. It is a game of the fittest, and man kind does not like to be No 2!
Its funny how in peace it's the sons who burry their fathers but in wars, fathers burry the sons. Why reverse the phenom? Let aging do its wonders!
When the rich start the war, it is the poor who fight, struggle and die, why?
If only communication was given priority over wars, the world would have been a better place.
Cowards declare war, bravery is talking man on man.
What is the other word for unfolding of miscalculations? War!
Hope we have more love in the air, instead of war in the air.
Never there can be a 'Good War' or a 'Bad Peace'.
War Quotes by Soldiers:
As a soldier I hate wars. Its brutal, meaningless, pointless.
Want to experience hell? War is a bigger version of it.
Surviving a war, is worse than living.
For a solider war is a biggest karma he is paying.
War is the final report, which describes the failure of humanity, with no scope of improvement.
During war, we learn to live in altogether new element know as 'Falsehood'.
There is nothing which war has till date been able to achieve, which we couldn't have achieved otherwise!
War is like fear cloaked up in courage, pushing soldiers to lead the fear.
Even after winning a war, never felt like a loser ever. What an irony!
To win hearts, we need to spread love, not wars.
War Captions Shayaris:
Jung se kya milega tujhe? Agar ladna hi hai toh apne sapno ke liye laad, apne andar ki ahenkar se lad!
Jung se pehele, jung ge baad, sab puchte hai ek sawal? Jung shuru karne se pehele uske parinam se dar
·Wapas dede mujhe who khun ki kameez jo peheni thi meri pati ne, ek din mai pehenaungi use humare bete ko, jo hai bina baap ke.
·Jung toh kayar ladte hai, Nidar hai woh jo jung se bhage or prem ki aur chale aye.
War Hashtags to spread a message of peace:
#War #Warzone #Warrior #NoWarOnlyPeace #StopWar #WarPetition #WordPeace #captionwala
Songs To Soothe Your Mind Amidst The War State:
Nadaan Parindey – (Rockstar)
Phir Le Aaya Dil – (Barfi)
Jugni – (Cocktail)
Kabira (Yeh Jawaani Hai Deewani)
Tujhe Bhula Diya (Anjaana Anjaani)
Teri Deewani – (Kailash Kher)
Khwaja Mere Khwaja – (Jodha Akbar)
Khwabon Ke Parindey – (Zindagi Na Milegi Dobara)
Moh Moh Ke Dhaage – (Dum Laga Ke Haisha)
Aayat – (Bajirao Mastani)
What is Happening With The Whole War State Currently:
Come Out Of The Dark War Feeling With War Captions!
Its time for you to create an impact by spreading the message of peace, and what better way to do it than using relatable and unique captions from CaptionWala!

Select a picture, which depicts the whole scenario, add relevant hashtags, use and lastly choose from one of our above mentioned captions.

In case, you are looking for captions for your personal profile, and want us to customize it, then contact us! We are waiting to brew a cup of coffee for you and have a chitty chat.